The Rainbow Pages features news, information, resources, events and businesses that support the LGBTQA community. We are in our fourth year of publication. In 2017, we added an app to our portfolio. We now have the annual print publication, an app for iPhone &Android, a website and a monthly newsletter.
We reach more than 15,000 people throughout Southwest Florida through all our products as well as our participation and sponsorship of various LGBTQA supportive events.
The majority of the proceeds each year are donated to LGBTQ causes. In 2017, the Rainbow Pages donated seed money for the first Naples Pride in June, in addition to helping organize and promote the event. A portion of this year's proceeds will be donated once again to Naples Pride and the LGBT-Fund at the Southwest Florida Community Foundation.
We publish information about resources, nonprofit agencies, events and job listings (website) for free. For more information, contact Michelle Hudson, publisher, or Derrick Shaw, associate publisher, at info@rainbowpagesswfl.com or 239.234.2420.
If you'd like to advertise, please download the advertising information.
To submit a resource or organization, please fill out the online form.
You can submit an event to our calendar.
Information about the App for iPhone & Android
Your business listing in the business directory and featured businesses in the app.
Your business in a searchable directory on website.
Includes multi-tab page with info about your business.
One click phone, email and directions.
Your business promoted on Facebook post.
Analytics available.
Monthly plans available or discount for annual.
No long-term contracts.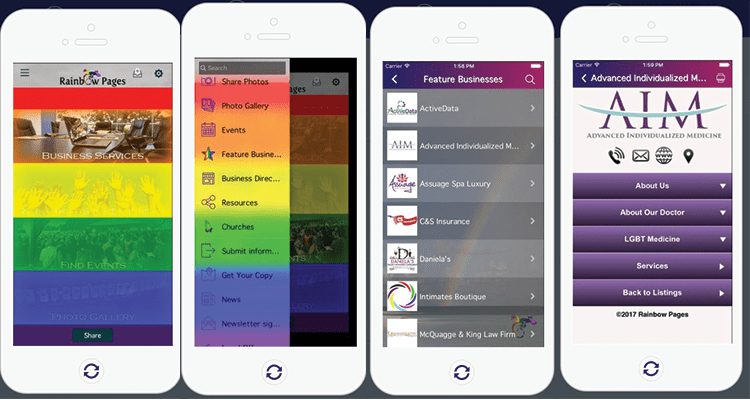 Website & Newsletter
Limited advertising spots are available on the website and the newsletter. The ad size is 300 by 250 px.
Ready to advertise?
We offer special pricing packages!