United Way of Lee, Hendry, Glades and Okeechobee's Volunteer Income Tax Assistance (VITA) program has concluded the extended 2021 tax season with tremendous results! United Way's VITA volunteers provided free tax preparation services to over 6,700 individuals and families who received approximately $9.7 million in tax refunds and saved over $2 million in tax preparation fees. That is money that goes back into the community, which is especially helpful during one of the most difficult years we have seen.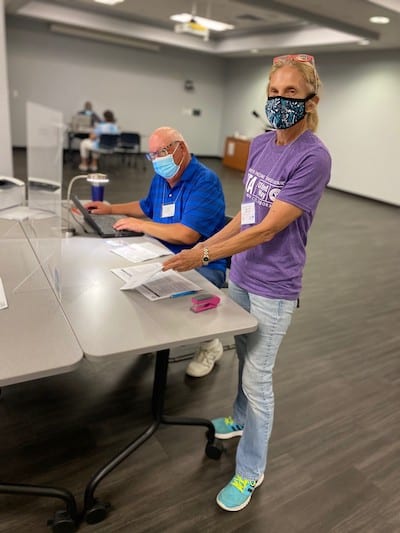 With the help of 147 determined IRS certified VITA volunteers and the support of many community partners, our local United Way operated 16 traditional tax sites, 5 limited contact drop-off/pick-up sites, and one completely virtual site. We were able to provide services that met the needs and comfort level of our clients and volunteers throughout SWFL. Together, the VITA volunteers provided over 12,800 hours of service, valued at $348,160, bringing our community impact for this program alone to $12 million.
"This was my rookie year and I am so impressed with the leadership, fellowship and professionalism of United Way VITA. I so appreciate the interaction with clients who are so grateful for the services provided by knowledgeable volunteers", said Kristi Haustman, VITA volunteer.
It was seen as a monster of a tax year while the program managers, volunteers and clients battled with how to provide and receive services safely during the continued COVID pandemic.
Jeannine Joy, United Way President and CEO shared, "We are grateful for the dedicated group of volunteers, partners, and staff that made this tax season our most successful to date. Pandemic safety protocol, mid-season tax law changes, the American Rescue Plan, and a five-week extension made this tax season the most challenging we have witnessed. We are thrilled that our dedicated VITA team was able to put a record-breaking amount of refunds into the pockets of hard-working residents and families when they needed it most."
The VITA program serves households earning $66,000 or less by accurately preparing and e-filing their federal tax returns for FREE. United Way's IRS certified volunteers help determine if clients are eligible for the Earned Income Tax Credit (EITC), education, and/or childcare credits when they file, ensuring clients get the full refund they are entitled to.
For those who still need to file their 2020 tax return, United Way has four year-round VITA sites located in Estero-San Carlos, LaBelle, Lehigh Acres, and Fort Myers to help. These year-round sites can also help with filing previous years' taxes and amendments. All sites operate by appointment only, please call 239-433-3900 to schedule an appointment. Those who prefer to file on their own, can do so free of charge at MyFreeTaxes.com as long as total household income is under $66,000.
United Way will be recruiting volunteers to serve as tax preparers, greeters, and interpreters for the 2022 tax season over the next few months. Volunteers will complete free classroom and online tax preparation training and certification using the TaxSlayer software. To join the VITA team, visit https://unitedwaylee.org/vita-volunteer/
The United Way of Lee, Hendry, Glades and Okeechobee is a volunteer driven organization dedicated to improving the quality of life for all people in our community. This is accomplished through fundraising, fund distribution, community building, volunteer advancement, information, and referrals. For more information, please call United Way at (239) 433-2000 or visit UnitedWayLee.org.